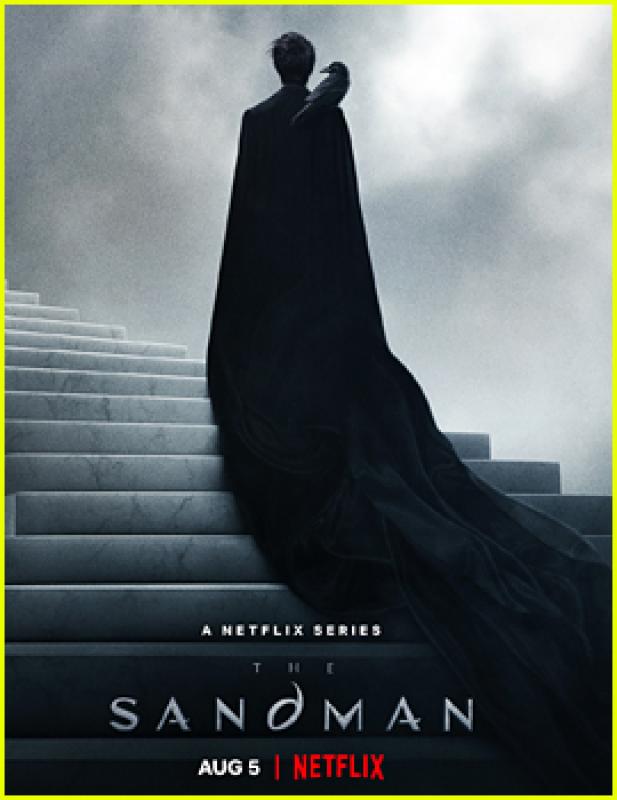 10/08/2022 When Neil Gaiman's The Sandman comic book series came out in the late eighties it was met by almost universal acclaim. One exception was myself.
At the time I was writing a regular series for Dez Skinn's Comic World. My review of Sandman was not enthusiastic. If I remember rightly, it said something to the effect that I thought the work a collection of characters from myth and legend bought together in a series of events that never added up to a satisfactory story line. Full of variously sourced magic and mystery but never presenting a coherent cause and effect narrative. Even recognising that it was an attempt to do something different. the episodic nature of the books I found to be more disrupting than engaging.
I have not read Sandman comic since then.
Having watched the first episode of the Netflix series of sandman my first reaction was to compose something rather smart- arse, saying is that it looks as though directed by Leggo and the script created by cutting and pasting words and phrases in the manner of a blackmail letter, spoken by actors embarrassed by what they are obliged to say. Characters and explanations have about as much authenticity as a school Nativity play. In short I thought it surprisingly bad.
Harsh.                                                                                                             
Having rushed to judgment I then watched Episode Two.
Thinking that with so much effort by so many creative people having gone into the film a more reasoned approach was called for I reconsidered. Now rather more analytically I suspect the problem with the film is that it is too much in awe of the comic. Comics are a static medium. Change is presented one frame, one step, at a time. It is the sequential presentation of discrete moments. Film staying too close to this restriction end by being a series of tableaus. Exposition is then often in the form of dialogue, in contradiction of the 'show don't tell' dictum that would apply to both film and comics.
I do like fantasy -have read Lord of the Rings (though grateful when it came to an end) and look forward to the third series of The Witcher - but even in fantasy I feel characters feet should touch the ground. Sandman, both comic and series, I find are just too ethereal, it's protagonists too unreal to identify with.
Sandman film special effects are up to par and the casting director did a good job.
 I shall spend no more time with the Netflix series despite a grisly what-ever-next curiosity about it and I am sure my opinions will have no effect on the viewing figures.
Reluctant as I am to say anything but positive things about comics and their creators this is written because the praise and attention heaped on Sandman could be better directed at the work of other comic creators both mainstream and independent.
For anyone contemplating writing a story (not good at it myself) there is helpful advice here -
https://www.theguardian.com/books/2013/mar/15/john-yorke-best-screenwriting
I haven't seen or read Sandman, but agree with some of what you say; though usually find that the talent of the numerous contributors (often great) that go into all the aspects of filmed stuff is malappropriated by what feels like a marketing committee at the head of a project, rather than working in tune with an original writer's intention or even any artistic sense at all.
HULLO ALAN,
YOU COULD BE RIGHT ABOUT THE POSSIBILITY TOO MANY HEADS WERE INVOLVED IN THE PRODUCTION. i WOULDN'T KNOW.
WATCH IT AND SEE WHAT YOU THINK. 
MY OWN TASTE JUDGMENT AND PREJUDICES ARE POSSIBLY A LITTLE SINGULAR.
bEST. aRTHUR
Being too much in awe of the comic was the main criticism of the Watchmen film too.
Is it preferable to the usual case of adaptations being made by people who clearly hold the original comics in contempt?
hULLO TIM,
THE WATCHMAN MOVIE IS TOO FAR BACK FOR ME TO REMEMBER MUCH ABOUT IT THOUGH i BELIEVE IT WAS NOT ENTIRELY SUCCESSFUL.
AS TO YOUR QUESTION i AM CURIOUS ABOUT WHAT YOU MIGHT HAVE IN MIND. - ANY PARTICULAR FILM ?
'SUPERMAN' WITH CHRISTOPHER REED I THOUGHT THE MOST SATISACTORY COMIC ADAPTION - UNTIL IT;S ENDING WHICH SEEMED TO HOLD NOT COMICS BUT THE INTELLIGENCE OF THE AUDIENCE IN CONTEMPT..
bEST.
aRTHUR
Add new comment